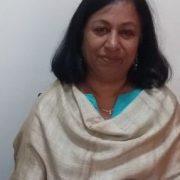 Mary Paul
Board Member
Mary Paul, is a veteran social work practitioner and a well known counselor. She has been a recipient of the Sadguru Gnanananda National award for excellence in social service in 2002.
Mary was the Founder Director of Vathsalya Charitable Trust, a prominent child welfare agency that worked with adoption and foster care as its major programs for nearly 2 decades. She took a break from Vathsalya in 1991 to spend more time with family during which time she founded an organization named Kutumba , a group foster care institution for the disabled. Kutumba offers residential services to physically challenged girls from the rural areas of the four southern states of India. The children and youth are sent to appropriate centers for skill training and their emotional care and nurture is provided at the Home. Kutumba also runs a music school for the economically under-privileged, a daycare program for preschoolers and a vocational training program for under privileged women.
Mary is a post graduate in social work from Bangalore University, with Diplomas in secular and Christian counseling. She lives in Bangalore with her family.