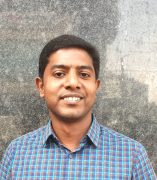 Shaiju RG
Volunteer Engagement Manager - Mumbai
Volunteer Engagement Manager – MumbaiCOLLAPSE
Shaiju RG, is our Mumbai region in-charge for facilitating and managing Rise Against Hunger activities.  This entails conducting meal packaging events; building/cultivating relationship with donors and volunteers; ensuring programs and projects are effectively implemented with local partners and  exploring new opportunities for growing Rise Against Hunger India's outreach in the region.
Shaiju comes with long experience in administration, logistics and supply chain, event management including fundraising & campaign coordination.  Most recently, he was involved in raising funds for hunger and malnutrition related activities with World Vision.
Originally from Kerala, Shaiju completed his graduation and post-graduation in Social work from Tamil Nadu Open University and then moved to Mumbai.  He has been working in the social sector since 2004.
Shaiju and his wife Blessy have two sons Abel and Adon who are also part of his journey to work with the under-privileged.