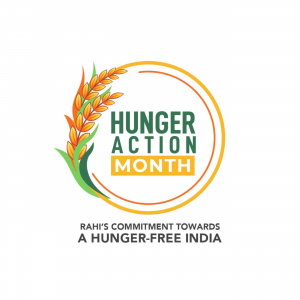 The State of Food and Nutrition Security Report of 2020 suggests that  COVID-19 pandemic could double the number of people who face acute hunger.  The world will inhabit 10 billion people in 2050, and the planet must have mechanism to find sustainable food solutions for everyone.  e are also seen an increasingly shrinking diversity in our food.  Crop diversity is shrinking at a faster pace.  Out of the existing 30,000 edible plant species, only 9 account for 66% of the total crop production.  Such a trend will not only drain the natural resources of the planet, it will further aggravate nutritional deficiency among more and more people.  There is need to grow different varieties of food to nourish people and sustain the planet.  Appropriately, the theme for World Food Day 2020 (observed on October 16)  "Grow, Nourish, Sustain. Together. – Our Actions are Our Future", 
The urgency to act and find solutions could not be overemphasized.   As we all have seen, COVID-19 pandemic unleashed unprecedented hardship on many.  Visuals of people facing food scarcity and hunger were all over.   With economic activities still not back in full gear, hunger and food insecurity continue to be major issue to deal with for many.  At the same time, the world also saw spontaneous and compassionate action by individuals, citizens' groups, local organizations, government agencies and  to extend a helping hand to the hungry and needy. 
In line with the World Food Day theme for 2020,  Rise Against Hunger India has planned to celebrate the month of October as Hunger Action Month to highlight the seriousness of the situation, and the urgency to find sustainable solutions.
Here are few other events that are lined up during the month:
Hosting a webinar with eminent panelists on food and nutrition security – challenges & solutions.
Launching our community based small grant project facility (named as SAMBAL project) in selected geographic clusters (selected based on their food security and nutritional indicators).
Showcasing Food-Heroes – sharing stories of food growers, producers, famers, retailers, supply chain professionals who toil every day under challenging circumstances to ensure that food reaches our plates.
Formally launching our virtual volunteering activities for the volunteers who want to be part of our movement.
 Honoring,  celebrating and recognizing the Hunger-Heroes – philanthropists, volunteers, and many more who went out of their way to help the needy at the peak of the lockdown.
For those who want to test their knowledge and check how much they know about their food, or about  nutrition, food waste, hunger, farming or other such issues, we have also created this Hunger Quiz.   The quiz has been quite a hit with the students, and many indeed scored very high.  However, even adults and seniors can take the quiz.
We invite everyone to be part of our hunger action movement. You can start with taking this Hunger Action Pledge – doing whatever little bit we can do from wherever we are, and we all can do something.
Because, our actions now are indeed going to determine our future!